Adding a reservation sales function to StarPay-Order to enhance operational efficiency at stores  
October 13, 2023
Netstars Co., Ltd.
Adding a reservation sales function to StarPay-Order to enhance operational efficiency at stores
Commenced operations at Fujiya confectionary shops on Monday, October 16, to enable online reservations for products sold in-store
Netstars Co., Ltd., (head office: Chuo-ku, Tokyo; representative director, president & CEO: Tsuyoshi Ri; hereinafter referred to as "Netstars") has added a reservation sales function that allows the date and time to be specified to its self-ordering system (StarPay-Order). This function will be used to introduce StarPay-Order to the online reservation and sales system operated by Fujiya Co., Ltd. (head office: Bunkyo-ku, Tokyo; representative director & president: Nobuyuki Kawamura; hereinafter referred to as "Fujiya") at some Fujiya stores (numbering approximately 390 in total) on Monday, October 16, 2023. The introduction of StarPay-Order by Fujiya has made it possible to pre-order products to be sold in-store and seasonal products in just a few steps online. This system will support not just deliveries but also in-store pick-up (buy online, pick up in-store [BOPIS]).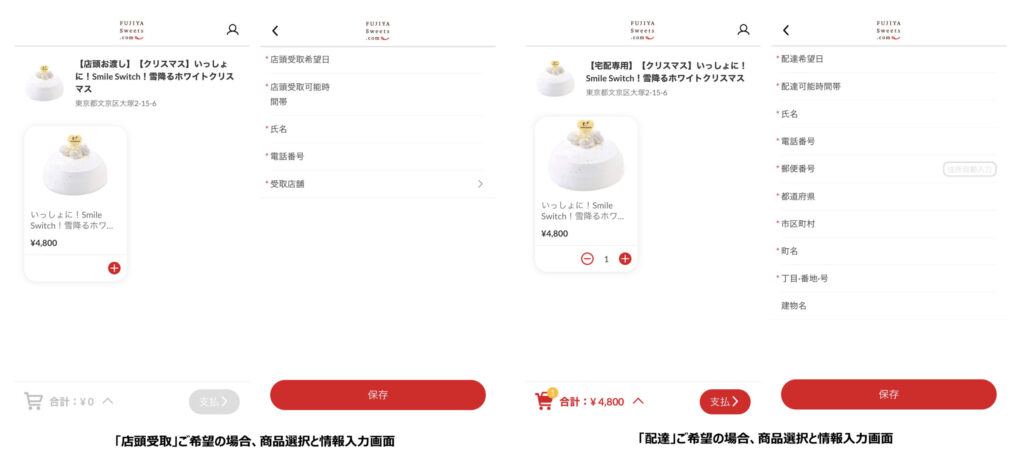 About StarPay-Order's new features
StarPay-Order is a service that enables mobile ordering and self-ordering in stores. A function to allow products to be pre-ordered by specifying the store and time from your smartphone has been added. Providing links from social media, flyers, apps, and websites to the Web app gives users a way to specify their preferred store and the products they wish to order. This is a feature that makes it possible to buy online, pick up in-store (BOPIS) by tying online purchasing to physical stores.
Solving a challenge facing Fujiya: To reduce the costs of taking written orders and making deliveries for in-store orders
In the past, a customer wishing to pre-order a product in-store would have to identify the product he or she wanted to order and fill out pertinent details regarding the delivery of the product by hand. Transcribing handwritten information into digital data each time an order is received takes time to complete and has become a challenge to address for store operations.
By introducing a system for accepting orders submitted from mobile phones, it is expected that we will be able to not only reduce the time and costs incurred to transcribe and manage handwritten information but also use data outputting to centralize the management of order information handled by all stores that have introduced this system, thereby improving the efficiency of delivery management and marketing.
In addition, customers can order products by registering only the information needed for deliveries and reservations since the system is designed with a specialized focus on enabling products sold in stores to be reserved and purchased. The fact that there is no need to register as a member is also appealing because such a process can be a hassle and lead to user disengagement.
Users can choose from among four different payment options: QR code payment (PayPay, LINE Pay, Merpay, and auPAY) and credit card payment.
Fujiya will begin operating this system with online reservations for online-only products offered to commemorate the founding of the company and certain Christmas cakes. 
FUJIYA-Sweets.com official website *Products that can be purchased are featured on this website.
https://www.fujiya-peko.co.jp/cakebrand/sweets-ec
StarPay-Order will continue to improve and add functions as a solution supporting the digital transformation of and improvements to store operations. 
■About StarPay-Order
StarPay-Order is a self-ordering and mobile-ordering service that is designed to reduce ordering tasks at restaurants and other such businesses. Kiosk terminals and change machines for cash payments can also be introduced in combination with this service in accordance with the format of the store. Given that this service is based on StarPay, a multi-cashless payment solution, it is also notable for being compatible with numerous payment methods, including QR code payment options and credit cards.
Other attractive features are the UI, which is easy for customers to use, and the store-management screen, which is multifunctional yet easy to operate.
Direct inquiries by clicking: https://www.starpayorder.com/
■About Fujiya Co., Ltd.
Founded in 1910, Fujiya began when it opened a Western-style confectionary in Motomachi, Yokohama. These days, the company is engaged in the production and wholesaling of Milky, Country Ma'am, and other confectionary products; the production and selling of cakes and other Western-style confectionary products; the operation of restaurants; and more. It is working with the aim of delivering smiles to customer's faces and being an integral part of customers' memories through its products and services.
In addition, Fujiya confectionary shops underwent a brand renewal in September 2023. The company intends to deliver "delicious smiles" to more people of all ages while remaining true to founder Rin'emon Fujii's desire to "make the world a happier place with sweets."
■About Netstars Co., Ltd.
Netstars has been developing its gateway business ever since it was founded in 2009. In 2015, Netstars was the first to introduce the QR code payment service WeChatPay in Japan as an agent. It has subsequently been developing StarPay, a multi-cashless payment solution that enables all sorts of cashless payment functions to be introduced and managed by stores at once, including primarily domestic and overseas QR code payment services. These days, the company is working on leveraging the technological capabilities harnessed for StarPay to develop multifaceted services.
Official website: https://www.netstars.co.jp/