Shinanoya Shokuhin adopts LINE Mini App Mobile CoGCa
October 10, 2023
Shinanoya Shokuhin Co., Ltd.
Netstars Co., Ltd.
Shinanoya Shokuhin adopts LINE Mini App Mobile CoGCa
Electronic money and point cards can now be used with smartphones for enhanced convenience and improved operational efficiency in stores
Shinanoya Shokuhin Co., Ltd., (head office: Setagaya-ku, Tokyo; representative director: Masashi Nagai; hereinafter referred to as "Shinanoya") and Netstars Co., Ltd., (head office: Chuo-ku, Tokyo; representative director, president & CEO: Tsuyoshi Ri; hereinafter referred to as "Netstars") hereby introduced LINE Mini App Mobile CoGCa at three Shinanoya supermarket locations (Roppongi Hills, Daita Food Pavilion, and Shinanoya Food & Liquor) on October 10 (Tue.), 2023.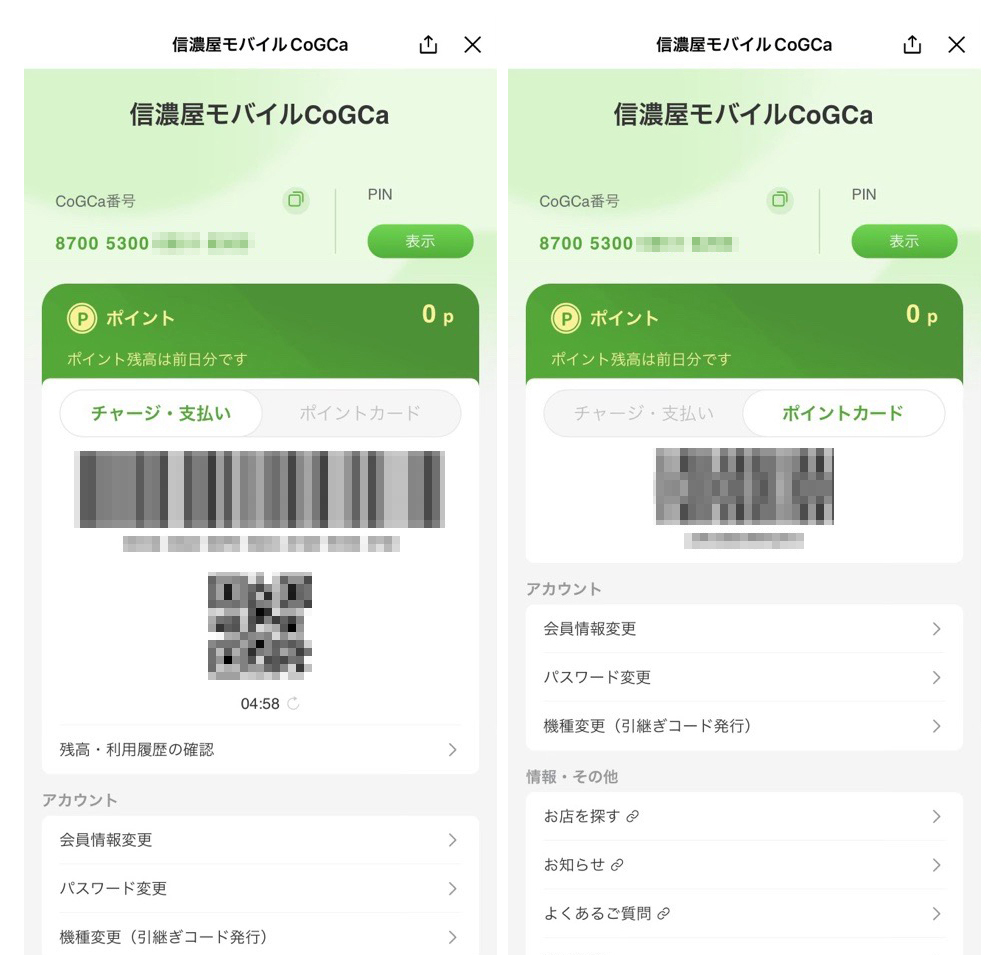 Shinanoya has introduced CoGCa, a point card and electronic money system as part of its suite of services for managing customer data and services for customers and has issued Shinanoya CoGCa cards and granted points for purchases at all of its stores. In order to reinforce support for cardless services based on the use of smartphones, Shinanoya offers Mobile CoGCa, a LINE Mini App that incorporates CoGCa functions.
Customers will be able to complete the registration process on their own smartphones when they become a new member. In-person shopping on a wallet-less basis will be promoted since no card will need to be carried by customers once they begin using the service. Stores will no longer need to carry out written procedures, which will lead to reduced expenditures in terms of time and effort, and points of contact with customers will also be increased through the distribution of information, including flyers, coupons, and recipes, via Shinanoya's LINE account.

Netstars has made LINE Mini APP Mobile CoGCa available through StarPay-mini, its own mini-app development platform.
StarPay-mini features that are designed to enable functions for mini-apps to be combined and customized make it possible to launch mini-apps in a shorter period of time relative to original full-feature applications. StarPay-mini has already been used to launch a number of mini-apps with such functions as those that are related to client management, reservations, orders, payments, and points. We believe that the possibilities for mini-apps will expand further through their adoption by supermarkets that are used daily by customers. With this initiative, we are also looking at expanding wallet functions to make mini-apps even more user-friendly.
Shinanoya Shokuhin and Netstars will continue to work on enhancing convenience for customers and creating smart shopping experiences.
■What is CoGCa?
CoGCa is an electronic money service with a point card function that can be used at 1,523 supermarkets operated by 97 different companies belonging to the CGC Group. Each member store issues its own CoGCa card with two functions, such that the card can be used as a point card tied to the member store in question and as a card that can store electronic money that is loaded onto it.
http://www.cogca.jp/
■What is LINE Mini App?
The LINE Mini App is a Web application that makes it possible for a company to provide its own services on the LINE app. It can enable a company to provide a comfortable service experience without requiring users to download an additional app or undergo a complicated registration process. A company can use the LINE Mini App to obtain data on users(*) tied to their LINE accounts, improve their services, and carry out marketing activities through its official LINE account and LINE ads.
*The permission of users is required if a company wishes to obtain data on users tied to their LINE accounts. Visit the following official website for more information (https://www.linebiz.com/jp/service/line-mini-app/).
■What is StarPay-mini?
StarPay-mini is a development platform provided by Netstars to enable mini-apps that can be used on LINE and other super apps to be more quickly and easily introduced. Quick launches are possible by blocking functions required of mini-apps and offering them as microservices.
Official website: https://starpay-mini.netstars.co.jp/
■About Shinanoya Shokuhin Co., Ltd.
Shinanoya began as a food and liquor store that opened in Setagaya Ward, Tokyo, in 1930. The company currently operates thirteen liquor outlets and four supermarkets in the Tokyo-Yokoyama area. In accordance with its watchword of you are what you eat, Shinanoya strives to bring joy to the dinner tables of customers by catering to diets that are rich, delicious, and healthy.
Driven by the concept of providing food that is delicious to eat and safe to continue eating, Shinanoya is developing environmentally friendly foodstuffs, including original products and prepared foods reflecting the importance and enjoyment of food, and healthy and delicious vegetables shipped directly to stores by growers who are particular about the condition in which their soil is maintained.
Shinanoya Shokuhin sells a wide range of Western-style alcoholic beverages from around the world, craft beers, Japanese saké and shochu spirits, and more with a focus on an extensive selection of private-label whiskey bottles and wines that are temperature-controlled to perfection and supplies its products to many restaurants.
■About Netstars Co., Ltd.
Netstars has been developing its gateway business ever since it was founded in 2009. In 2015, Netstars was the first to introduce the QR code payment service WeChatPay in Japan as an agent. It has subsequently been developing StarPay, a multi-cashless payment solution that enables all sorts of cashless payment functions to be introduced and managed by stores at once, including primarily domestic and overseas QR code payment services. These days, the company is working on leveraging the technological capabilities harnessed for StarPay to develop multifaceted services, such as digital transformation support for stores.