NETSTARS Selected in "Top 10 Agile Service Companies 2022" in "APAC CIO Outlook" Magazine
June 28, 2022
NETSTARS Co., Ltd. (head office: Chuo-ku, Tokyo; Representative Director and President: Tsuyoshi Ri; "NETSTARS") was selected in the "Top 10 Agile Service Companies 2022" chosen by the US-based IT business magazine APAC CIO Outlook .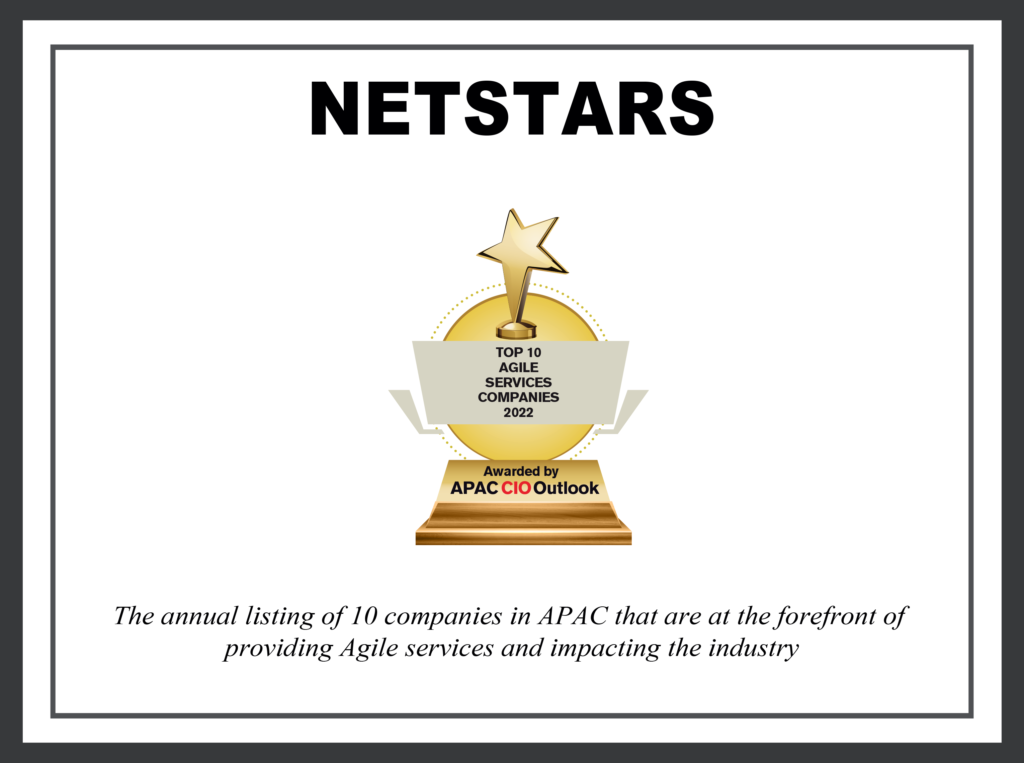 The "Top 10 Agile Service Companies" announced by APAC CIO Outlook are the top ten companies chosen for exhibiting particularly excellent development capabilities among the world's IT service providers, with focus on agile software development, which is vital for smoothly implementing projects. APAC CIO Outlook stated that the reason for the selection was that StarPay offered by NETSTARS provides all-in-one support for multiple Japanese and overseas payment brands and centralized management, providing a high level of convenience. Furthermore, it was mentioned that there is rising need for companies providing cashless-relate services as cashless payment users and user companies increase. Under such conditions, NETSTARS' StarPay service integrating cashless payment and a settlement gateway was highly rated as a DX solution for reducing the burden on user companies.
In the APAC CIO Outlook on the receipt of the award, NETSTARS Representative Director and President Tsuyoshi Ri said NETSTARS' mission is to "Simplify payments for the merchants." In addition, NETSTARS CTO Chuck Chen said the advantage for companies implementing StarPay is "With NETSTARS' payment solutions, it's convenient for brands to have more opportunities to expand business outside its demographic location and associate with more brands."
See the following link for details.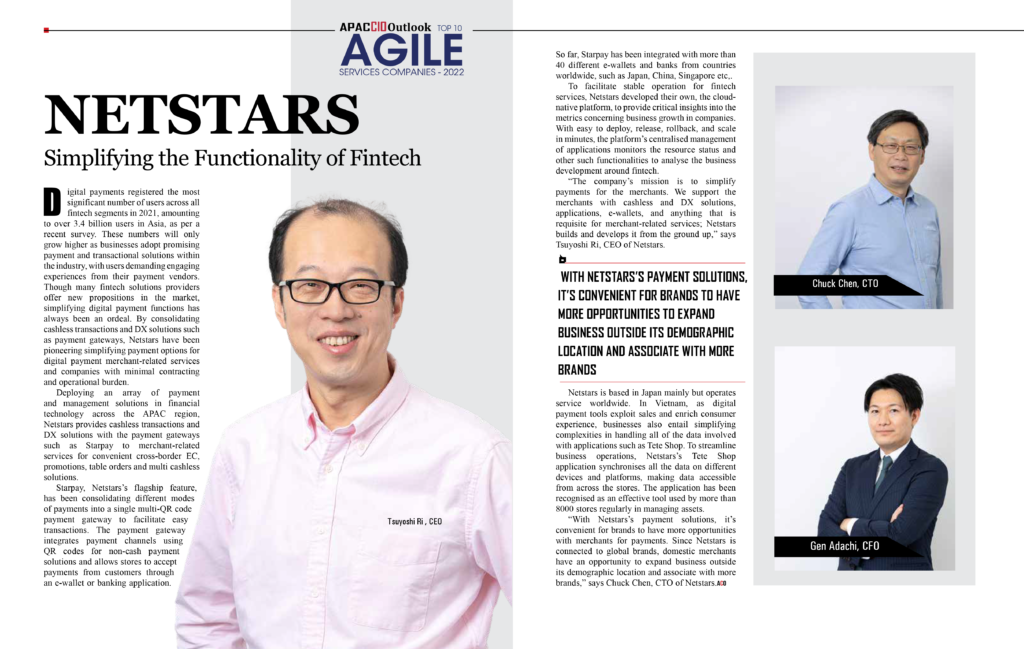 NETSTARS will continue to promote cashless payments as a provider of FinTech services connecting people and society based on StarPay, and contribute to the realization of a sustainable, diverse and inclusive society through business activities.
■ About APAC CIO Outlook
Headquartered in the United States, APAC CIO Outlook is a digital and print magazine that aims to provide a platform for CIOs, CTOs and other senior level IT buyers and decision makers along with CXOs of solution providers to share their experiences, wisdom and advice with enterprise IT community of APAC countries.
Official website
■ About StarPay
StarPay was released as a payment app for the "WeChat Pay" QR code payment system for Chinese travelers in 2015. Since then, it has expanded supported payment brands from those for inbound travelers to Japanese residents, and now operates as a gateway covering more than ten major QR code payment brands.
It is widely supported as a tool enabling hassle-free implementation of cashless payment.
■ About NETSTARS Co., Ltd.
The company has conducted a gateway business since it was founded in 2009. It became the first agent in Japan of the WeChatPay QR code payment service in 2015. Since then, it has operated the StarPay service enabling QR code payment services to be deployed and managed in Japan and overseas at once. At present, the company is engaged in diversified services based on the technological strength of StarPay.
Official website